The Odyssey by Homer Ep. 1
Thursday 24 August
Tullan Strand, Bundoran, Donegal
---
4PM
€10 (includes refreshment)
Thursday 24 August
Tullan Strand, Bundoran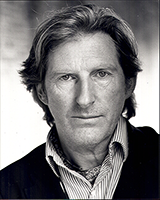 Directed by Adrian Dunbar
Brian Friel was devoted to Homer. In this special festival commission, The Odyssey is replanted from Europe's easternmost Mediterranean coasts and islands to its westernmost coastline and in particular to five of Donegal's dramatic beaches that resonate with Brian Friel's work and life, wending its way from from south to north Donegal along the Wild Atlantic Way. An actor will recite excerpts from The Odyssey – the reading accompanied by music and song.
Adrian Dunbar is an actor and director from Northern Ireland best known for his television and theatre work, most recently in the BBC drama, Line of Duty.
Ep. 2: Friday 25 August, 4PM, Narin-Portnoo Strand, Donegal
Ep. 3: Saturday 26 August, 6PM, Carrickfinn Beach, Kincasslagh, Donegal
Ep. 4: Sunday 27 August, 6PM, Marble Hill, Donegal
Ep. 5: Monday 28 August, 12PM,Fahan, Inishowen, Donegal
Reading by Niall Cusack, best known for The Lost City of Z (2016), Of the Sea (2011) and The Railway Station Man (1992).
Music from Jim McGrath and Janette Mongan. 
Photo Credit: Wreck. Photo by Fidelis