THE ODYSSEY by HOMER
Fri 10th, Thu 16th, Fri 17th, Sat 18th, Sun 19th August 2018
Beaches of Donegal, Donegal
---
THE ODYSSEY by HOMER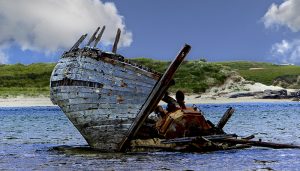 RHAPSODES (Actors):
Maxine Peake
Imogen Stubbs
Frances Barber
Jaye Griffiths

DATES & LOCATION FOR DONEGAL BEACHES:
NOTE – see separate event page to book Derry~Londonderry Beaches
Click here for accompanying notes on The Odyssey
STATEMENT:
Cancellation: Episode 7 of the Lughnasa FrielFest Homer Odyssey readings with actress Natashca McElhone on Carrickfinn beach on Friday August 17 will now not take place.  Ms McElhone has regrettably had to cancel as she has been called away due to other contractual obligations in the United States.  Ms McElhone is disappointed not to be able to join the Lughnasa FrielFest for her reading.
All tickets will be refunded.
Please note Episode 5 of Homer's Odyssey begins Wednesday August 15th on Ballycastle Beach Co. Derry and Episode 6 on Thursday August 16th on Narin Beach Co. Donegal.  Both episodes will be read by the actress Jaye Griffiths.
Episode 2 – Maxine Peake
Friday 10th August, Time  7.30pm
Killahoey Beach,
Co. Donegal
Episode 6 – Jaye Griffiths
Thursday 16th August, 7pm
Narin Beach, Portnoo,
Co. Donegal
Episode 7 – CANCELLED- Natascha McElhone
Friday 17th August, 7pm
Carrickfinn Beach
Co. Donegal
Episode 8 – Frances Barber
Saturday 18th August, 5pm
Magheroarty Beach,
Co. Donegal
Episode 9 – Frances Barber
Sunday 19th August, 6pm
Lisfannon Beach,
Co. Donegal
TICKETS: €15 (ROI)
CELEBRATING FRIEL'S PASSION for all things Homeric and transposing the story from Greece to Europe's western edge the festival presents readings from Homer's great epic of voyage, shipwreck and homecoming across beaches in Northern Ireland and the Republic of Ireland. From the northeast of Ballycastle (where Greek hexameters meet the hexagonal rock formations of the Giant's Causeway) to the north-west's sweeping sands of
Narin & Portnoo in Co. Donegal the readings move in and out of the exhilaratingly beautiful indented coastline and back and forth across the border. And along the way the Greek myths of Homer meet Irish myths – such as Balor the one-eyed giant or Finn McCool. It finishes on the Inishowen Peninsula, the safe harbour of Brian Friel's own Ithaca homeland.
Inside a pitched tent, an acclaimed actor reads from Emily Wilson's superb new translation (the first in English by a woman), accompanied by Greek food, live Greek music and the crashing of the Atlantic waves.