ALL MANKIND IS US: WALKING FOR WAITING FOR GODOT (ROI)
Sat 17 & Sun 18th August
Malin Town, Inishowen, Donegal
---
SPECIAL ARTS OVER BORDERS CLOSING EVENT: All Mankind is Us: Walking for Waiting for Godot by Samuel Beckett
(CLICK HERE to download digital flyer for Malin Head performances)
Arts Over Borders' Samuel Beckett and Brian Friel Festivals come together in a special closing performed reading of All Mankind Is Us: Walking for Waiting for Godot on the Inishowen Peninsula, County Donegal. Performed by the Lyric Theatre Belfast.
'at this place, at this moment, all mankind is us' (Vladimir, Waiting for Godot)
A Country Road.  A Tree.  An Evening.
'It arrives at the custom-house as it were, with no luggage, no passport and nothing to declare yet it gets through, as might a pilgrim from Mars…'  Kenneth Tynan on Waiting for Godot, Observer 1953.
IN 'WAITING FOR GODOT' it is usually the characters of the play, Vladimir and Estragon who do the walking and suffer sore feet for their troubles but in this unique site-specific Godot it is the audience who walk around Antony Gormley's Tree for Waiting for Godot (specially installed for the occasion) for a rehearsed reading of the play.
This cultural history of socio-political site-specific Godot is a sequel to the Dante-inspired Inferno (2013).
Waiting for Godot has become increasingly a play that communities in distress turn to for comfort.  There is a worldwide lineage of Waiting for Godot productions of this socio-political nature, most notably the St. Quentin prison Waiting for Godot (1957), Johannesburg's Market Theatre all black Waiting for Godot (1976), Susan Sontag's Sarajevo Waiting for Godot (1993) and the New Orlean's Hurricane Katrina Waiting for Godot (2007).
Arts Over Borders first trialed its Irish border Walking for Waiting for Godot in 2018 as a performed reading with Northern Irish actors one weekend and Republic of Ireland actors another weekend, both presentations around Sir Antony Gormley's stainless steel Tree for Waiting for Godot in a remote upland bog on the Irish border.  The event had an enormous impact with its audiences, enough to convince us that this cyclical play should return within the festival as a constant every year.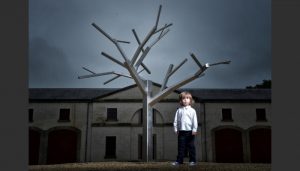 ---
Booking is essential!
Ticket Price:
€15 (Full)
€12 (Concession)
DATES & TIMES:
Sat 17th August – 5pm
Sun 18th August – 5pm
Event Duration: 3.5 hours
Location:  Secret Location near Malin Head
Pick-Up Point:
Bus departs The Diamond, Malin Town, Inishowen Peninsula
EVENT NOTES
Bus departs Malin Head Diamond, Inishowen, at 5pm to take the audience to Malin Head where the audience will begin a gentle 25 minute walk through country road to reach Sir Antony Gormley's festival commissioned Tree for Waiting for Godot installed at a secret location.
PLEASE NOTE:
Toilet facilities not available on site!
Event to include 25 minute gentle walk on hillside incline country road.
Audience members are reminded that this is an outdoor seated event!

Seating is available!
Please bring suitable walking/hiking footwear and warm clothing
Audience members are also invited to bring water and snacks to replenish your energy.